Materials For Your New Driveway.

Block Paving
Block paving is by far the most popular surface for a driveway or patio. The wide range of blocks colours and laying patterns allows you to create a unique design to enhance your home. There are both 'antique' and 'modern' blocks available to suit your property. Clay paving offers vibrant long-lasting colour; whilst concrete gives a more subtle shade. Various kerbs and edgings along with circular patterns provide the finishing touches and endless design possibilities. It is vital that block paving is constructed and laid correctly. Many problems arise with incorrect installation. Permeable paving is also available.

Shingle/Gravel
This offers a low cost alternative but with limitations. Various sizes of aggregate and a wide range of colours and textures are available. This is an economical, quick and easy option to use, once you have constructed a sub-base with an edge restraint.

Macadam (Tarmac) driveways
A correctly laid sub-base with edge restraint is needed prior to the laying of the macadam. Macadam is laid in two layers:- A binder course (base coat) with a surface course (wearing course) laid on top. The thickness of each layer is determined by its application, whether it be a road or domestic driveway.

Drainage
Drainage is very important and is often ignored because it can be difficult to install and adds cost. As a professional driveway installer we will take this into account and advise you accordingly. You do not want to be left with puddles or flooding when it rains!

Patios
We offer a wide range of stylish patios to suit your requirements. A patio in the front or rear of your property can be seen as an 'extension' to your living space and can be constructed using a wide range of materials and in numerous stunning designs. Natural stone, granite and blockpaving are to name but a few.

With any choise of materials it is vital that the preparation work is carried out to a high standard, with P Smith Paving and Landscaping you can be assured of this - we have our reputation to maintain.





We offer: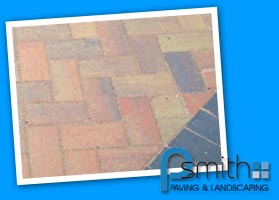 We are happy to provide free, no obligation quotations for work and to assist with the design process.